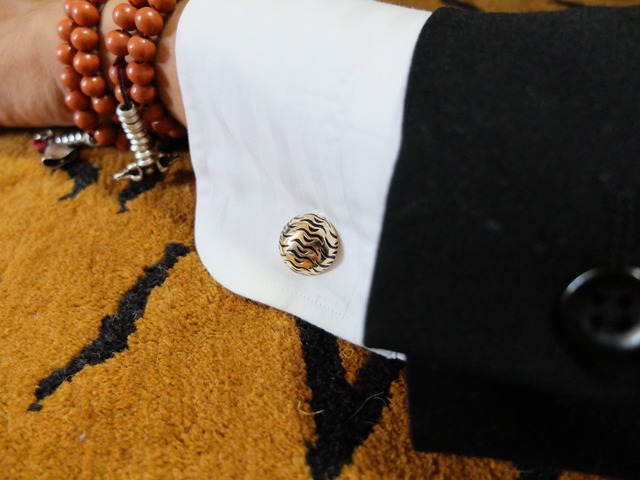 Tiger Rug Cuffs
SOLD OUT
Japan domestic shipping fees for purchases over ¥10,000 will be free.
Shipping fee is not included. More information.
Tiger Rug Cuffs / カフス
チベットにはTiger/虎はいませんが、位の高い人には虎皮の敷物を用意したそうです。
殺生をしない僧侶には虎の縞柄を抽象的にデザインしたタイガー柄のラグを本物の代わりに敷いたそうです。
小さなモチーフにはデザイナーの名前でもあるgyamjo「智慧の海」が丸い宇宙に広がっています。
素材 SV925+K18ゴールドコーティング
Tigerモチーフ直径 17mm
波モチーフ直径  10mm
大きさ 17mm

Tiger rug design cuffs link
Inspired by the tiger design mainly found on the
old & antique carpet of Tibet.

Size - cuffs front size 17mm round
cuffs back size 10mm round

Material - silver 925 w/ 18k gold coating

All design and made in Japan. The above price
include the shipping and you have to pay for the
import tax in your country.
Add to Like via app
Shipping method / fee

Payment method
¥21,120 tax included
SOLD OUT